"We made our first butterfly valves back in 1955"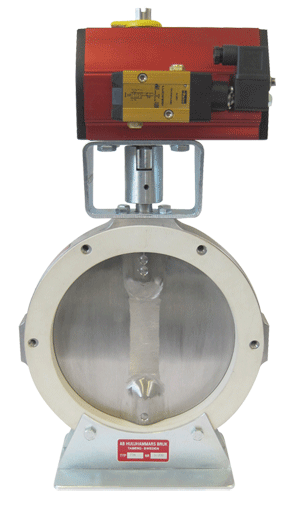 "There are many examples of our valves which are still in use more than 60 years after they were installed"
Huluhammars Bruk – a leading manufacturer of high quality butterfly valves
The valves are designed to control the flow of substances including powder, gas, dust, slurry, fluids and ash. The standard valves come in sizes from Ø100 to Ø500 mm. They can withstand the effects of chemicals and the weather. One advantage of our valves is their comparatively low weight due to careful design and choice of materials.
The valves can be operated manually in the standard version, but they are often fitted with an actuator of different kinds such as pneumatic rotary actuators, pneumatic cylinders and, in some cases, electric worm drive gears. All the components of our valves are replaceable.
We always keep a full stock of spare parts on site, guaranteeing fast delivery to customers when they need them
The business began in 1716 as a forge incorporating a grinding workshop and a wood pulp factory on the Tabergsån river at thefoot of the Taberg hill…
Food-grade valve line
Huluhammars Bruk has now produced a valve liner made of food-grade NBR rubber. It has been approved by the US Food and Drug Administration (FDA). The liner can be used with all our valve sizes.
We build special machinery
for our customers